The ATMOSET SMT enables a stable and effective drying process. The optimal degree of drying is always reached, regardless of the weightof the product or the web speed. Continuity of the production process and reproducibility of the product quality are ensured. The energy consumption of the dryers drops significantly due to the optimised heat output. This saves energy costs. The drum dryers can be optimally dimensioned during preparatory project planning with the customers resulting in reduced investment costs.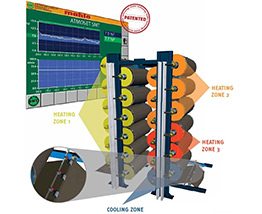 Atmoset SMT-15
The Atmoset SMT controls the residual moisture of the fabric with steam-heated drum dryers. The key to accurate and even residual moisture is in two superposed control loops. The first control loop is used to measure and control the condensate temperatures of the drum dryers combined in groups. The deviation of the condensate temperature from a preset setpoint is used to directly calculate the amount of energy required for drying. The steam supply is adjusted to the moisture of the incoming product. The second control loop captures the residual moisture of the product after leaving the dryer, using special measuring electrodes. It supplies the pulses to adjusting the setpoint for the condensate temperature control so that the product obtains the desired residual moisture. The intelligent controller algorithms used provide for a rapid but especially stable control of the residual moisture, taking all input variables into account.
Manufactured by: Mahlo GmbH & Co. KG., Germany
FEATURES

BENEFITS

RESOURCES

GET A QUOTE
Key Features
As per fabric quality and residual moisture required, only precise amounts of steam enter can dryers
Process control loop based on condensate temperature and residual moisture
Improved quality
Increased process repeatability
Intuitive user interface
Energy saving to the tune of 20-25 percent; short amortisation time
Easy to retrofit/install
Your message was sent successfully. Thanks.