Truetzschler's Licker-in Zone upgrade has two mote knives that improve the efficiency of the cleaning process. This in turn helps reduce the wastage of good fibres as breakage free carding can be carried out.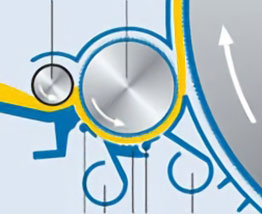 Licker-in Zone Upgrade for DK 740 Cards
Truetzschler offers the licker-in zone upgrade that improves the efficiency of the cleaning process through two mote knives that helps in better removal of kitties and also reduces wastage of good fibres.
Manufactured by: Truetzschler India Private Limited, India
FEATURES

BENEFITS

RESOURCES

GET A QUOTE
Key Features
Upgrade to two mote knives
Adjustable mote knives
Better waste control in licker in zone
Flexibility in material flow control
Flexibility for trash extraction
Prevent loss of good fibre
Your message was sent successfully. Thanks.