The patented Truetzschler T-Con helps improves process efficiency by lowering the number of imperfections by up to 10 percent, through precise computerised system control.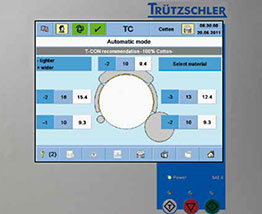 T-con conversion
(Electronic gauge for carding machines)
Setting up a T-con optimiser in the carding machine gives the manufacturer a computerised system control. This improves the efficiency of the overall process and reduces imperfections up to 10% as anomalies in the card sliver can be minimized. The distances of the carding elements to each other are the most important settings at the card. They significantly influence the carding and therefore the yarn quality. The setting is made on the standing, i.e. relatively cold machine. The results appear on the card display and indicate which settings can be improved. There is no easier way to accomplish perfect card settings and thus optimal productivity.
Manufactured by: Truetzschler India Private Limited, India
FEATURES

BENEFITS

RESOURCES

GET A QUOTE
Key Features
Application Range: Carding
Electronic feeler gauge for contact monitoring and distance optimisation
Precise computerised system control
Reduces imperfections by up to 10%
Increased safety for carding machine
Optimised production
Uniform quality
Your message was sent successfully. Thanks.