This is an atmospheric machine with special filters provided in the suction for better removal of fluffs.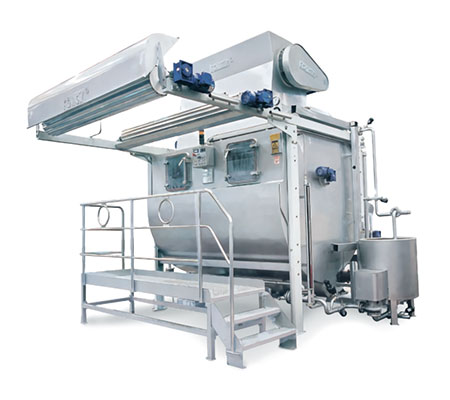 Towel-38
(Atmospheric towel dyeing)
JUMBOTOWEL-38 atmospheric towel dyeing machine is the most economical dyeing facility of towel market. Equipped with lint digester, no additional cleaing is required. Specially designed for bulky fabrics like towels, heavy curtains and decorative fabrics for both home textiles and automotive segments.
Manufactured by: Fong's National Engineering Co., Ltd., Hong Kong
FEATURES

BENEFITS

RESOURCES

GET A QUOTE
Technical Details
Maximum capacity per chamber: up to 350 kg
Suitable fabric weight: 200 ~ 600 g/m2
Heating gradient: 25ºC ~ 98ºC approx. 5ºC/min (dry saturated steam pressure at 7 bar)
Cooling gradient: 98ºC ~ 80ºC approx. 2.5ºC/min (cooling water at 3 bar, 25ºC)
Design temperature: 98ºC
Design pressure: atmospheric
Liquor ratio: approx. 1:5 ~ 6
Key Features
Automatic fabric upper tangling release device
High efficiency tubular heat exchanger with combined filter compartment
Overflow nozzle
Heavy duty stainless steel pump, frequncy inverter control
Machine body and major wetted parts by dye liquor made of 316 Ti/316L
Equipped with Lint Digester, no cleaning of the filter needed
Highly automatic
Useful for both home textiles and automotive fabrics
Main control cabinet with FC30 program controller
Your message was sent successfully. Thanks.