A crucial process in warp preparation, sectional warping produces quality warp beams that are free of defects. Only warps of the highest quality guarantee optimal efficiency and fault-free fabric in the weaving department. KARL MAYER's ISOWARP sectional warping machine guarantees perfect warp quality at maximum productivity – a decisive factor for the weaving department. This modern sectional warping machine produces production warps for all types of fabric qualities i.e. suiting, shirting, sheeting, terry, synthetic and furnishing applications, and more.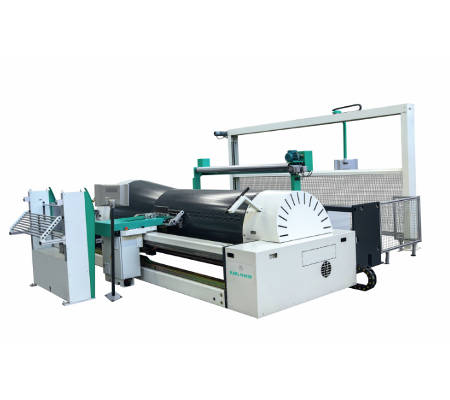 ISOWARP
ISOWARP has been proven to run at higher warping and beaming speeds and, in particular, with a substantial simplification of operation, resulting in improved production. Beam to beam reproducibility is guaranteed with Karl Mayer's in-built KAMCOS system, which additionally has easy access to the teleservice network to remotely support machine maintenance.
Manufactured by: KARL MAYER Textile Machinery India Private Limited
FEATURES

BENEFITS

RESOURCES

GET A QUOTE
Uniform thread tension
High residual elongation
No crossed ends or missing ends
Exact cone alignment
Precise section width determination
Extremely precise feed calculation
Evener roller at the running-on point; reliably produces a cylindrical material build-up on the warping drum, equal end length over the whole width of the warp is thus guaranteed
Automatic section alignment and tension control
Uniform cylindrical build-up guaranteed through evener roller
Ensures that the yarn count variations and yarn volume changes do not cause any density variations
Reverse rotation of drum makes certain of a perfect warp sheet lying at its winding point onto the drum with maximum levelling effect from the evener roller
Permits optimal winding density while ensuring minimal yarn loading
Designed to produce warps for all types of suiting, shirting, sheeting, and furnishing applications with the most competitive price-performance ratio
A combination of high speed with optimal yarn tension and well designed ergonomics for the operator guarantees maximum productivity
All ends are wound onto the drum with exactly the same length and uniform tension
Your message was sent successfully. Thanks.