Modern machines are expected to run at higher speeds, be less labour intensive and produce superior quality yarn. DeChang's four roller compact spinning systems do all of this, and more.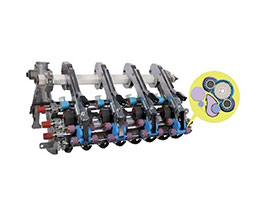 Four roller compact spinning system
DeChang four rollers system is tailor-made for different makes of ring frames and installation is easy with limited change on the existing machine. Longer suction tube slot betters compact effect; rotating four roller generates low torque on machine front bottom roller thus saving energy. To spin long fibre yarn, three rollers system can be changed into four rollers system by replacement of gearbox and suction tube. This system can be changed back to conventional yarn spinning easily.
Manufactured by: Ningbo DeChang Precision Textile Machinery Co., Ltd., China

FEATURES

BENEFITS

RESOURCES

GET A QUOTE
Key Features
Longer suction slot length of 24.5 mm
Same size top roller cots
Longer drafting distance
Bigger intermediate middle gear
Tailor-made design
Inverter drive for suction
Better and effective compacting
Lower operational cost
Suitable for processing fibres up to 51 mm length
Longer life of middle gear
Space saving
Energy efficient system
Your message was sent successfully. Thanks.