DeChang's retrofit for the central suction system features a new aerodynamic design and magnetic connectors which reduce air leakage and power consumption.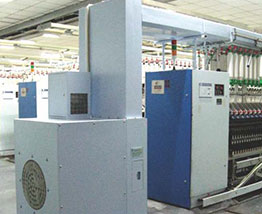 Central suction system retrofit
DeChang's central suction system retrofit ensures uniform negative pressure that provides sufficient suction. Ergonomically and aesthetically designed, this innovative retrofit features sturdy magnetic connectors that help reduce leaks of air. An inverter drive aids in maintaining a uniform negative pressure. This low-maintenance retrofit also has reduced power consumption.
Manufactured by: Ningbo DeChang Precision Textile Machinery Co., Ltd., China
FEATURES

BENEFITS

RESOURCES

GET A QUOTE
Key Features
Adjustable negative pressure with inverter drive
Aerodynamically designed sheet metal suction duct
Automatic cleaning device for micro-dust
Tailor-made design
Maintain uniform negative pressure
Easy maintenance, less wear and tear
Energy and space saving
Concise and elegant appearance
Your message was sent successfully. Thanks.