Textile manufacturing processes generate a lot of fibre waste. Disposal of this waste can be a cumbersome process if not done properly. Luwa's Fibre Separator ensures proper separation of fibres and dust before disposal.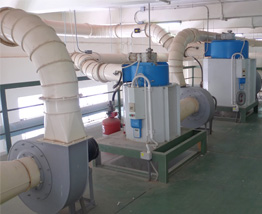 FIbre Separator
Fiber Separators by Luwa are tailor-made solutions to handle fibre disposal for small, as well as large quantities. It segregates the fibres and dust before disposal, thus avoiding clogging. The operation is a continuous process and is designed to automatically maintain its consistency.
Manufactured by: Luwa India Private Limited, India
FEATURES

BENEFITS

GET A QUOTE
Key Features
Smaller waste quantities can be pressed directly into a waste bag, for disposal
Larger quantities are preferably discharged into a container, into a silo or into the filling hopper of a bailing press
Technical details
Raw material: cotton, blends, synthetics
Application: for textiles and nonwovens
Smaller waste quantities allow a better use of silo capacity
Disposal without dust emission
The integrated control permits also autonomous operation
Continuous or pressure controlled operation
Intermittent feeding is possible
Your message was sent successfully. Thanks.