The drum type brushing machine SUPERBRUSH is equipped with 6 abrasive brushes in drum type configuration but, with difference to other machines, each of the 6 brushes is independently driven. The tension of the fabric is controlled by load cells. The suction of the dust is efficiently carried out by a central dust suction box, that is enclosing all the 6 brushes to avoid the powder generated during the brushing is not flying around and will not stick to the fabric.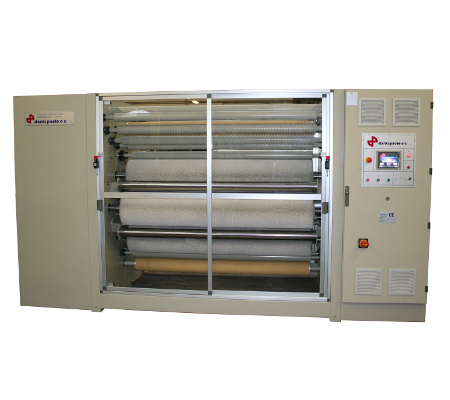 Drum Type Sueding Machine
The brushing/sueding machine SUPERBrush is a drum type brush sueding machine, available with abrasive brushes in ceramic or silicon carbide. The machine is equipped with 6 abrasive brushes, independently driven by 6 AC motors with power supply by inverters and is controlled by PLC with touch screen. The brushes have an increased diameter and an higher angle of contact with the fabric to give longer life of the brushes and increased production. The high quality of process is guaranteed by an advanced system for the control of fabric tension, managed by load cells that allow automatic control and constant monitoring of the fabric tension. The memorization of all the processing parameter in the memory of the machine allows repeatability of the effect. The fabric is kept well enlarged inside the machine by means of decurling rollers and expanding bars placed in various points of the machine. A special dust suction system allows to keep the brushes clean and to remove promptly the micro powder generated during the processing. The seams jumping system is very efficient and does not allow any fabric waste at the passage of the seams. The use of standard electronic components and an advanced troubleshooting system by modem allows a safe operation of the machine.
Manufactured by: Danti Paolo E. C. SRL, Italy
FEATURES

BENEFITS

RESOURCES

GET A QUOTE
6 abrasive brushes of larger diameter
Automatic seams jump
Load cells control of fabric tension
Easy to use
Independent control of each of the 6 units
Very precise control of fabric tension
Low maintenance
High production
Reduced fabric waste at seams passage
High productivity
Your message was sent successfully. Thanks.