The double head shearing machine DP 7 V is a development of the DP 7 shearing machine, it is equipped with 2 Danti Paolo Shearing units, placed one on top of the other and equipped with all the accessories needed in a shearing machine, such as beater roller and pile lifting device. This machine has the possibility to process both faces of the fabrics, or the same face, two times, in only one passage. It is especially suited for those high quality woven fabrics that require an high production and an high quality of shearing at the same time.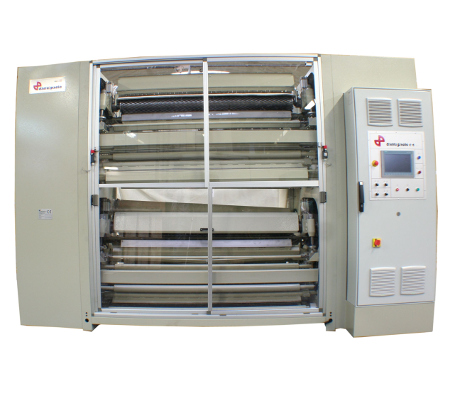 Vertical Shearing Machine
The vertical shearing machine DP 7 V is designed with two superimposed shearing units; this layout allows a considerable saving of space, without jeopardizing the simplicity of operation of the machine. It is available in two main versions: Shearing twice the same face in one passage and shearing once, both faces in one passage. The heart of the machine, the shearing unit, is the already well tested DP 7 single unit shearing machine. This shearing unit has a particular pitch of the ledger blade in comparison with the shearing rollers and a special anti-vibration and balancing system. The drive of the various axles is through AC motors with power supply inverters. The control of the machine is through PLC with touch screen. The machine can be supplied complete with all the accessories needed for specific fabric processing.
Manufactured by: Danti Paolo E. C. SRL, Italy
FEATURES

BENEFITS

RESOURCES

GET A QUOTE
Two superimposed shearing units
Beater roller and pile lifting unit
Metal detector
Automatic seams jump
Automatic thickness control
Seams detector with magnetic induction
Special cutting stand with piano devise for selvedge protection
Fabric centering unit with photocells
Brush at exit
Spare shearing unit
Automatic lubrication
Dust suction and recovery plant
Easy to use
High cut performance
Best quality and long life of the blades
Shears lower pile height
Low maintenance
Strong structure
A higher production than a conventional machine
Your message was sent successfully. Thanks.