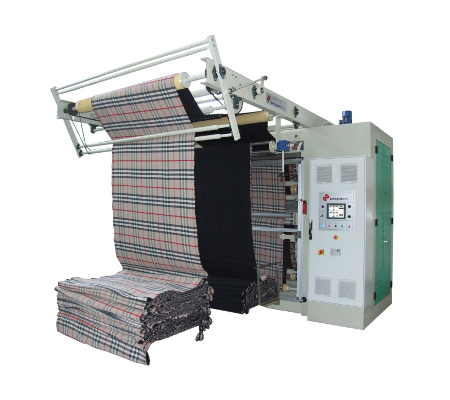 Double Drum Raising Machine
The DOUBLE DRUM RAISING MACHINE model VR9000 is composed of two raising drums, placed one above the other, for a better optimisation of the space and for an higher flexibility of process. With the double drum configuration it is possible to process both the faces of the fabric, or twice the same face, in one passage only. The possibility of rotation of the raising drums, in both directions, allows a wide range of processes and increases the machine flexibility; moreover, thanks to the PLC control, it is possible to have advanced functions such as automatic loading of the fabric on both raising drums, replacement of raising fillet directly on the machine, etc. The kinematics of the machine, have been engineered in order to reduce the power consumption and increase the mechanical efficiency. The machine is equipped with raising energy recovery system for a low consumption of electricity. Each axle of the machine is directly driven by AC motors with inverters, as a result, all the intermediate transmissions by belts and gears have been replaced by gearboxes directly connected to the motors. The machine is siutable to process any type of woven and knitted fabric and, according to the kind of fabric to be processed, it can be equipped with the following accessories:
• Decurling rollers for knitted fabric in open width
• Expanding rings for knitted fabrics in tubular form
• Fabric turning devise for knitted fabrics in tubular form
• Heater cylinder with electric or steam heating
• Electrostatic eliminator
• Rolling unit for big rolls
• Special fabric folder with variable length
Manufactured by: Danti Paolo E. C. SRL, Italy
FEATURES

BENEFITS

RESOURCES

GET A QUOTE
Two superimposed raising drums with 24 or 28 raising rollers each drum
Working width from 1800 mm to 3600 mm
Drive by inverters
Control by PLC and touch screen
Power recovery system
Remote diagnostics by internet Independent motion of each cylinder
Automatic and zero raising function
Memorisation of processing parametres with USB key backup
Easy to use
Saves space
Low maintenance
High power of operation
Low energy consumption
High quality of the fabric
Your message was sent successfully. Thanks.