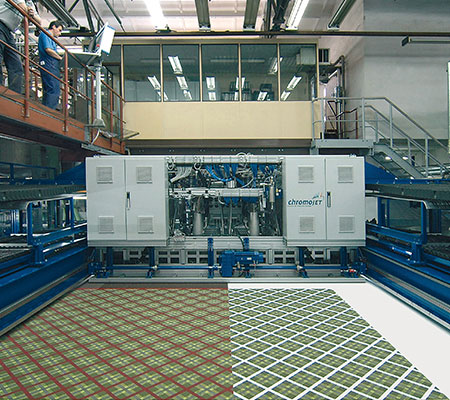 Digital printing systems
ChromoJET printer - 25 dpi spot colour printing: This solution uses pre-mixed dyes and jets for printing.
ChromoJET Printer - 76 dpi process colour printing: 8, 12 or 16 base colours are used to mix the final colour and shade directly on the carpet.
Colaris Carpet Printer - Inkjet printing: 4 base colours in combination with unique industrial printheads are used to print an endless number of shades.
Manufactured by: J. Zimmer Austria
FEATURES

BENEFITS

RESOURCES

GET A QUOTE
Technical Details
Application range: digital printer for rugs, wall to wall carpets, carpet tiles, mats, runners, logos, promotion mats, carpet for contract and hospitality market
Game and play carpets for floor and tables, seat covers, car carpets, club rugs and mats
Key Features
Resolution from lowest 25 dpi to highest 400 x 1200 dpi
Excellent print definition
Full penetration on all colours
Suitable for polyamide, polyester, wool, and acrylic carpets and mats, and needle felt constructions
No limitation on pattern repeat
No screen – no limitation in pattern repeats
Design change on the fly
Full penetration
Pile weight from 250 up to 1,500 g/sq metre, for PA, wool, acrylic and PES
High resolution prints
Complete print line from one supplier
Your message was sent successfully. Thanks.