KARL MAYER creels ensure gentle handling of high tension levels, maximum efficiency, and top quality.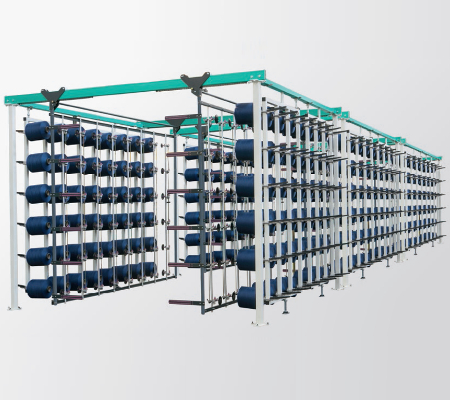 Creel for Spun and Filament Yarns
The Creel is an integral part of warping machine which holds a number of yarn bobbins to produce beams. KARL MAYER's world-renowned creels are available for all type of yarns for all applications.
Manufactured by: KARL MAYER, Germany
FEATURES

BENEFITS

RESOURCES

GET A QUOTE
Technical Details
Raw material: cotton, regenerated, synthetic, wool, and their blends
Key Features
Automatic pre-tentioner ensures controlled warp tension
Parallel creel available with choice of yarn tensioners
Short reaction time
Balloon limiters
Easy threading and touch free monitory of the ends
V-creel for direct warping of fine and coarse spun yarns
V-creels help reduce friction points during unwinding yarn from the creel
Automatic pretensioner prevents snarling at machine start
Easy threading in system ensures less downtimes
V-creels enables running machine at high speed (up to 1200 m/min)
Your message was sent successfully. Thanks.