Surface smoothening and thickness calibration of needle punched nonwovens is obtained by two roll pneumatic loaded calender system.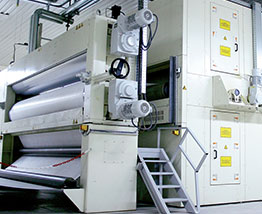 Calendering
Fleissner calender systems have two rollers that can be heated or cooled. System engineering ensures absolutely uniform line pressure, while the heated and/or cooled rollers provide a high level of temperature uniformity.
Manufactured by: Truetzschler Nonwovens and Man-made Fibres GmbH, Germany
FEATURES

BENEFITS

RESOURCES

GET A QUOTE
Technical Details
Application range: thermal finishing of needle punch non-wovens for filter, and geotextile applications
Minimum gap between rolls: 0.1 mm
Gap adjustment (optional): 0.10 mm
Material weight: 80 to 450 GSM
Key Features
Linear pressure (pneumatically adjustable): 200 N/cm
Heating/cooling medium is fed into the roller by means of rotary joins and flexible hoses
Single/double jacketing for rolls in horizontal or vertical arrangement
Economical high performance solution
Operator and maintenance friendly design
Various configuration possibilities
Your message was sent successfully. Thanks.