Foam foulards reduce the use of chemicals and thus the drying requirement. Even heavy webs can be completely saturated with minimum application of foam and energy.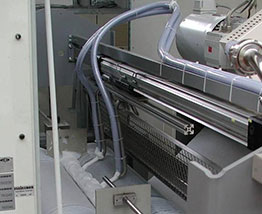 Foulards
The Fleissener impregnation station provides high quality impregnation which improves the functionality of the webs with the minimum possible use of chemicals. The station is highly efficient and consumes less energy. It is based on foam which is known to reduce the requirement of chemicals for finishing the fabric.
Manufactured by: Trützschler Nonwovens and Man-made Fibres GmbH, Germany
FEATURES

BENEFITS

RESOURCES

GET A QUOTE
Technical Details
Application range: chemical finishing of needle punch non-wovens for filtration applications
Working width: up to 5000 mm
Key Features
One or two side application
Less wet pick up
The rollers can be moved up to 60 mm apart pneumatically
Two spindles with fine-pitch threads
Adjustable penetration depth
Low drying energy consumption
Easy cleaning and maintenance
Precise and reproducible roller gap setting
Flexibility
Wide range of applications
Your message was sent successfully. Thanks.