Waste disposal can be problematic for textile manufacturers. Luwa's Bale Press system is a comprehensive waste disposal system that can clean up to four different types of waste.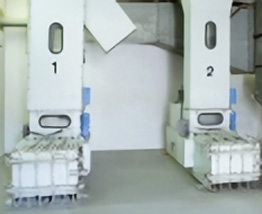 Bale Press System
(Comprehensive waste disposal system)
The Bale Press system by Luwa is equipped to clean four different types of waste, and even reduces the amount of disposal waste. Useful in the manufacturing of cotton, blends and synthetics.
Manufactured by: Luwa India Private Limited, India
FEATURES

BENEFITS

GET A QUOTE
Technical Details
Raw material: cotton, blends, synthetics
Application: for traditional textiles and nonwovens
Key Features
Cleans up to four different waste types
Equipped with a complete waste management system
Hydraulic Bale Press compacts textile waste to bales of standard size
Easy waste management
Reduction of waste footprint is achieved
Single system can clean up to four different kinds of waste
Your message was sent successfully. Thanks.