High-performance warp-knitting machine with course-oriented weft-insertion for production of grid structures. Concrete compound can be reinforced with carbon or glass fibre rather than steel.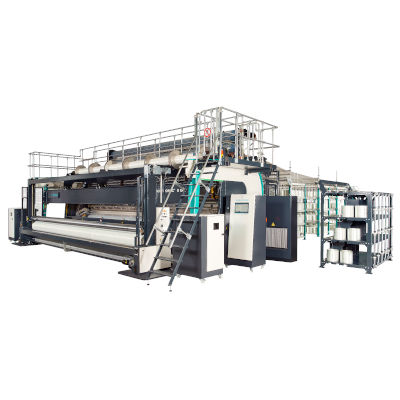 Wefttronic II G
(Produces warp knitting grid for reinforcement of civil structures using polyester and glass)
KARL MAYER's Wefttronic II G is a high production machine that manufactures grid structures for civil engineering purposes. Wefttronic II G produces technical textiles that contribute to considerably lower costs and environmental pollution and save up to 70% concrete! In addition to this, the Wefttronic II G helps reduce carbon emissions, energy as well as component weight.
Manufactured by: KARL MAYER Textilmaschinenfabrik GmbH, Germany
FEATURES

BENEFITS

RESOURCES

VIDEOS

GET A QUOTE
Key Features
Output up to 2000 m²/h
Manufactured fabrics have high tensile strength due to stretched threads
Optimised handling of brittle-yarn materials
Yarn laying carriage with 1/3" chain division and 36 yarns, 1/2" chain divison and 30 yarns
Up to two guide bars – max. 32" flange diameter for warp beams
One bar for filler threads – max. 40" diameter for warp beams
Two separately driven three-roller systems
Benefits
Versatile machine; can serve different markets
High productivity due to working width of up to 6.8 m
Reduced weft yarn waste
Different machine widths available for economic production
High efficiency due to long running lengths from creels
Lower material costs due to the use of rovings
Less manpower required
Less space required
Your message was sent successfully. Thanks.