Automatic dyeing sample machine.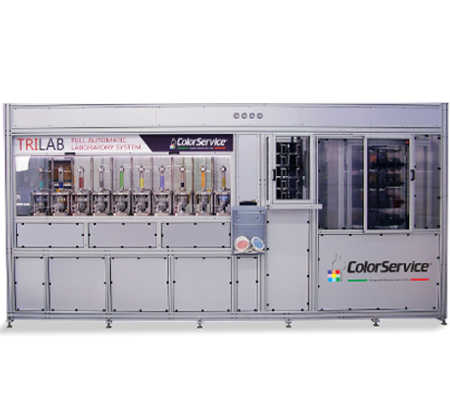 TRILAB
(Fully manage fabric dyens in the laboratory)
Trilab represents a true revolution in the laboratory. It is the first laboratory dyeing equipment totally automatic that can simulate the dyeing cycle of the production. This new system is able to weight dyes for the lab, dissolve, prepare the chemical, and dye fabric samples.
Manufactured by: Color Service s.r.l., Italy
FEATURES

BENEFITS

GET A QUOTE
Doses powder dyes stocked in mini hoppers
Accurately prepares and doses powder chemicals such salt and soda to dye bath
Dissolves the dispensed dyestuff with water according to the required concentration and delivers the solutions
Prepares and doses all liquid chemical and auxiliaries to dye bath
Dyes fabric samples with flow technology like in jet or beam dye
Washes with required program like in production
Dries samples after the dyeing process
The machine has ten independent dyeing stations (as default), each managed through the PC that allows the user to memorize and personalize any dyeing process, just like in a production machine microprocessor.
An automatic trolley will take care of all the movements of the fabrics holders, the positioning of the samples in the dyeing units, the removal and the positioning in the drying station, the removal from there and the deposit in the basket of the completed test.
Preparation of bath for conventional dyeing machines in laboratory - prepares bath into the dyeing beakers, which are supplied along with conventional dyeing machines. Moreover the high accurate dosing unit allows to prepare high concentration dye bath, which is not possible for conventional pipetting systems.
Automatic: weighing, dissolution, solution storage, solution pipetting
Fabric dyeing with auto addition of aux components
Monitoring and execution of complete dyeing process according with type of fabric to dye
Fully automatic
Linkable with production system
Repeatable results
Automatic cleaning of bottles
Your message was sent successfully. Thanks.