The Toyota-Trützschler Comber TCO 12 offers consistent, reproducible quality of sliver that is of the highest quality. Innovative multi-drive system allows precision setting of speeds of the individual elements.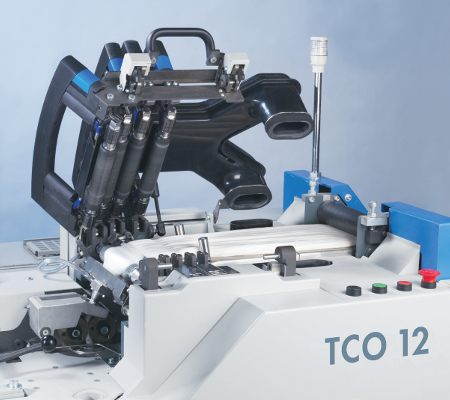 Toyota-Trützschler Comber TCO 12
(Combing machine)
The Toyota-Trützschler Comber TCO 12 can run at higher nip rates due to fewer mechanically limiting factors. On the TCO 12 combing machine, gears are replaced with specially designed, highly dynamic servo motors for the frequent reversal of rotation. With the conventional one-sided drive, the detaching rollers are subject to twisting during each reversal of rotation. This results in a certain variation of combing quality between the 8 combing heads. The double-sided drive ensures uniform motion of the detaching rollers on all eight combing points. This reduces the otherwise process-related irregularities. DISC MONITOR, the latest draw frame quality sensor, has also been integrated. DISC MONITOR provides data for automatic self-optimisation of the machine. Due to the individual drive technology of the combing elements, the piecing process, for instance, is automatically optimised. Furthermore, deviations in lap weight no longer present a problem, since sliver count is permanently monitored and corrected when necessary. The Comber TCO 12 features multi-servo combing which reduces vibrations even at high nip rates. The TCO 12 also has a narrow frame, unlike other combers that have a wide oil bath gear.
Manufactured by: Truetzschler India Private Limited, India
FEATURES

BENEFITS

RESOURCES

GET A QUOTE
Technical Details
Cotton fibres Ne 0.2 - 0.1
Number of heads: 8
Nips/min: mechanical up to 600 nips/min
Doubling: 8
Sliver count: 3 - 6 ktex (Ne 0.2 - 0.1)
Lap diameter: maximum 650 mm
Lap width: 300 mm
Key Features
Two highly dynamic synchronised motor drive for detaching rollers
Count control levelling system
Reduction of torsion by 75%
Gears replaced with dynamic servo motors
Narrow frame unlike conventional combers with wide bath gear
Multi-servo combing enables increased nip rate with decreased vibrations
Double-sided drives minimise torsion and minimises angle while ensuring uniform motion of detaching rollers at all eight combing points, thus reducing process-related irregularities
Significant reduction in variation coefficients between combing heads of noil volume and between combing heads of nep removal
Simple, clear operation through colour touch screen; infinitely variable parameters can be set without the adjustment of oil bath gear that was previously necessary
Your message was sent successfully. Thanks.