In spinning mills, the draw frame is the last stage to improve quality of the sliver. Therefore preventing errors to the draw frame sliver is of paramount importance because these errors inevitably lead to yarn defects. The Truetzschler TD 8 Draw Frame is a high production machine that improves the quality of every metre of sliver by ensuring fewer errors - which directly translates into more productivity.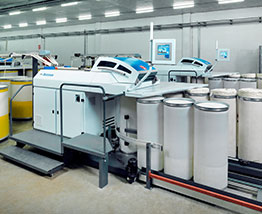 TD 8 Draw Frame
(Auto leveller draw frame)
Like all Truetzschler draw frames, the TD 8 features computer-controlled direct drives that makes it far more superior to conventional designs that rely on differential and / or angular gears and change wheels. The TD 8 also features an improvement over the already reliable 4-over-3 drafting system - an adjustable pressure bar provides controlled guidance of even short fibres. With such high-precision mechanics, the TD 8 ensures optimal control of the fibre flow.
Manufactured by: Truetzschler India Private Limited, India
FEATURES

BENEFITS

GET A QUOTE
Technical details
Self optimisation for perfect break draft
Separately driven SERVO CREEL with individual drive that eliminates mechanical connections to draw frame and allows optimisation of tension draft to the draw frame
Drafting system: 4-over-3 drafting system geometry ensures sliver evenness with pneumatically loaded top rolls and integrated suction
Adjustable pressure bar in main draft area provides controlled guidance of even short fibres
Extended service life: cleaning bars can be used in six positions
Innovative bearings that are permanently lubricated and high resistance to variations in temperature ensuring optimal running properties as well as extended service life of coatings and prevention of lap formation
Sliver is deflected between creel and draw frame; allows specfic setting of sliver feed
DISC LEVELLER unit with maintenance-free bearings, precision sensing groove, and sensing rolls
Permenantly lubricated bearings with extended service life of coatings; prevents formation of laps
Perfect continuous suction with low, energy-saving negative filter pressure
Top rolls can be guided in the bearing housings of the bottom rolls: ensuring optimal control of fibre flow
Energy and maintenance intensive mechanical gears omitted to reduce power consumption
Highly dynamic and maintenance free speed-controlled drive further reduces power consumption
Compact and space saving - drafting system is arranged on the can changer
Simple to operate with touch screen interface; reliable microcomputer control
Ergonomic and unobstructed working area that is operator friendly
Your message was sent successfully. Thanks.