The Truetzschler TD 7 Draw Frame (without levelling) is a economic solution with low power consumption. The compact and simple to operate TD 7 is designed to occupy very little space, without any technological or qualitative compromises.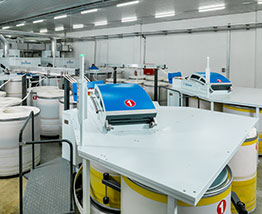 TD 7 Draw Frame
(Non autoleveller draw frame)
The Truetzschler TD 7 Draw Frame is a relatively inexpensive solution that is equipped with the same drafting system used in the TD 8. By arranging the drafting system directly on the can changer, the TD 7 takes up very little space. The TD 7's main drive is speed-controlled; this not only reduces maintenance, but also decreases power consumption by eliminating power transmission. The TD 7 also features highly reliable micro computer control and an operator-friendly unobstructed, ergonomic working area.
Manufactured by: Truetzschler India Private Limited, India
FEATURES

BENEFITS

GET A QUOTE
Key Features
Adjustable pressure bar in main draft area provides controlled guidance of even short fibres
Drafting system: 4-over-3 drafting system geometry with pneumatically loaded top rolls and integrated suction
Pneumatic web threading
Perfect continuous suction with low, energy-saving negative filter pressure
Digitally controlled, maintenance-free, highly dynamic servo drive
Technical details
Single-delivery draw frame without levelling, up to 1000 m/min delivery speed
Continuous 600 cu m/h or integrated filter with 0.9 kW installed power
Perfect continuous suction with low, energy-saving negative filter pressure
Top rolls can be guided in the bearing housings of the bottom rolls: ensuring optimal control of fibre flow
Energy and maintenance intensive mechanical gears omitted to reduce power consumption
Highly dynamic and maintenance free speed-controlled drive further reduces power consumption
Compact and space saving - drafting system is arranged on the can changer
Simple to operate with touch screen interface; reliable microcomputer control
Ergonomic and unobstructed working area that is operator friendly
Your message was sent successfully. Thanks.