A precision assembly winder for all kinds of staple and filament yarns. It is equipped with the latest technology and the possibility of adding an elastane component to the assembly process.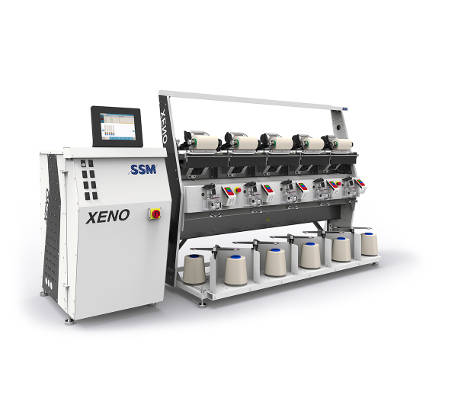 SSM XENO - YD
(Precision assembly winder for staple and filament yarns)
The new SSM XENO-YD modular winding machine platform XENO combines dye package winding, rewinding, and doubling applications with three different winding technologies. Complying with the growing automation demand (due to increasing labor costs) all the XENO machines can be equipped with an automatic doffer system. Another advantage of these XENO platforms is the enhanced DIGICONE 2 winding algorithm, enabling a 10-20% increase in dye package density with same dyeing recipe. The SSM XENO platform is manufactured 100 per cent in Switzerland.
Manufactured by: SSM Schärer Schweiter Mettler AG, Switzerland
FEATURES

BENEFITS

GET A QUOTE
Key Features
Electronically adjustable precision winding for highest possible densities and best unwinding properties
15" touch-screen machine terminal for ease of use
Optional automatic doffer system
Optional integrated 3-ply creel with individual yarn detection sensor for each ply
Higher efficiencies in upstream machines
User friendly operation
Maximum productivity
Less downtime
Best quality of package
Your message was sent successfully. Thanks.