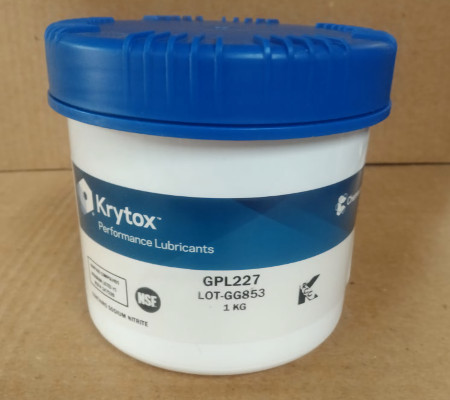 Speciality Lubricants
Machines and components need various special lubricants to ensure continued performance and process efficiency. These lubricants, if not genuine, can cause further damage to the machine and products.
Krytox™ GPL-227 lubricants offer extra bonding, and non-melting properties. These lubricants serve a variety of industries, including chemical, textile, tire, aviation, conveyor, oil and gas, glass, plastic film, and non-woven manufacturing, as well as mining and metal processing.
These speciality lubricants ensure that the machine and components are protected from the damaging effects of friction, high temperatures, etc.
FEATURES

BENEFITS

RESOURCES

GET A QUOTE
Key Features
Krytox™ GPL-227 is PFPE based polymer composed of fluorine, oxygen, and carbon
Synthetic lubricant specially formulated for extremely high temperature applications
Safe for use around oxygen, and non-reactive with chemicals typically used in industrial applications
Chemically and biologically inert and silicone-free
Insoluble in most solvents but soluble in highly fluorinated fluids and some super critical fluids such as CO2
Does not contain Volatile Organic Compounds (VOCs) or chlorine
Application-specific products
Longer component use-life, less downtime and less frequent re-lubrication
Non-combustible
No oxidation and low volatility
Longer life for components, less downtime and less need for frequent re-lubrication
Undamaged by — and non-reactive with — acidic or caustic cleaners and disinfectants, steam, moisture and high temperatures
Ideal for all components, including bearings, seals, valves, O-rings, chains, gearboxes and agitators
Minimal environmental footprint
Thrives on tough challenges in the severe environmental conditions
Your message was sent successfully. Thanks.