The heart of the PROSIZE® sizing machine are two size boxes type HSB and VSB which integrate with a patented size application system that enables highest process quality, using the minimum size liquor volume.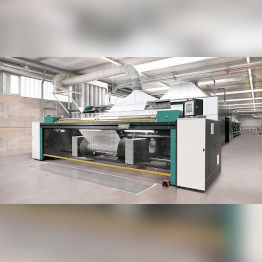 PROSIZE® Sizing Machine
(Breakthrough in sizing)
The innovative KARL MAYER PROSIZE® sizing machine guarantees a uniform controlled size layer application and careful yarn treatment coupled with reduction of sewage water and higher speed and productivity. The PROSIZE® is designed to offer maximum productivity and flexibility when setting the yarn density.
Manufactured by: KARL MAYER, Germany
FEATURES

BENEFITS

RESOURCES

CASE STUDIES

GET A QUOTE
Technical Details
Application range: shirting, bottom weights, worsted, silk, home textiles, and apparels
Key Features
Machine speed: up to 160 or 200 metres per minute
Size boxes type HSB and VSB with patented size application system
No-immersion unit equipped with 3 high turbulence and uniform application zones with spray bar technology and final application/squeezing roller
Enables highest process quality, using the minimum size liquor volume
Better yarn coverage, improved denim quality
Greater uniformity in sizing, better efficiency in weaving
Lower yarn coverage, increased speed in terry production
Broader yarn coverage, increased productivity when producing home textiles
Fewer rejects in the event of stoppages, fewer losses in shirt production
Small bath volumes, lower costs, reduced environmental impact, and less splashing
Your message was sent successfully. Thanks.