With its patented double-jet burner, Osthoff-Senge singeing machine is the best in terms of reliability, quality, and energy consumption.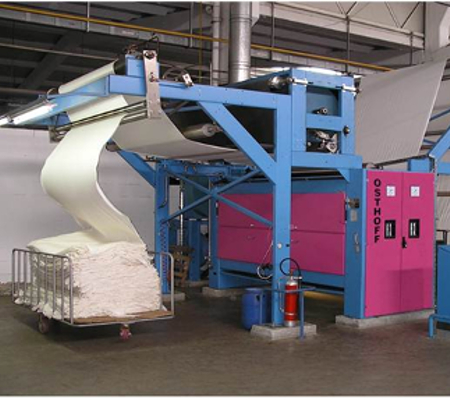 Osthoff Double-jet Singeing Machine
With patented technology, high reliability, precision, performance, capacity, and low energy consumption, Osthoff-Senge double-jet singeing machines use high performance double-jet burners in all machine types. A process controller that keeps the singeing effect constant at all times, eliminating the possibility of damage to the fabric.
Manufactured by: Osthoff-Senge GmbH & Co. KG, Germany
FEATURES

BENEFITS

RESOURCES

GET A QUOTE
Key Features
Applicable for different types of fabric
Sequencing unit
Automatic flame width adjustment
Four singeing positions, centreing devices, flat rollers, counter rotating scroll rolls
Double-jet burner
Complete PLC machine with chemical dosing
Comes with an optical scanning device
No pilling on surface
Clear-cut visibility of knit structure
Improved appearance
Attracts no soil
Sharper lines can be printed
Less weight loss
No shade change
No effluent
Can be done on grey fabric
Lowest operating costs
Your message was sent successfully. Thanks.