Truetzschler Card Clothing offers a complete range of flat tops from Novo 33S to Novo 60 for cotton and synthetics.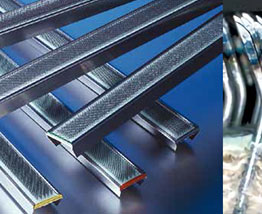 Novotop
(Flat tops which maintain a balance between resistibility and flexibility)
With semi-flexible clothings in particular, different requirements have to be met precisely. On one hand, a high level of carding performance calls for more resistibility with lower flexibility. On the other hand, single hooks must be flexible enough to not damage to the fibres. NovoTop flat tops are premium flat tops that have been engineered to maintain this perfect balance between resistibility and flexibility - thus delivering perfect performance.
Manufactured by: Truetzschler Card Clothing, Germany
FEATURES

BENEFITS

RESOURCES

GET A QUOTE
Key Features
Special hardened pins of alloy steel
Multilayer foundation
Special patterning of pins
Application Range: All standard makes and models of flat card for cotton, synthetics and their blends
Long working life
Longer maintenance interval
Less accumulation of micro dust on flat surface due to special pin pattern
Your message was sent successfully. Thanks.