Truetzschler TC 15 cards are designed for high-production carding, and offer the best in efficiency, quality of final product, and optimal material utilisation.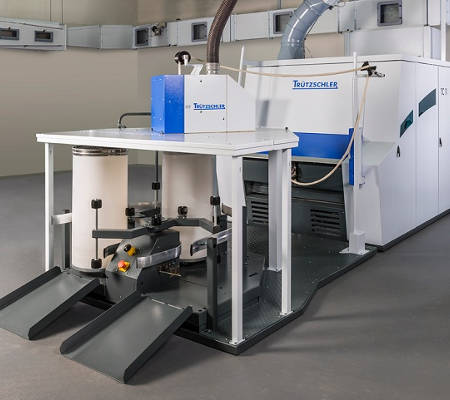 Card TC 15
(Card with the longest carding section)
The Truetzschler TC 15 card offers a competitive edge not only because of its excellent productivity and quality, but also because of its low operating costs. It is highly flexible, allows for quick and frequent lot, flats, and carding changes. Like other Truetzschler cards, the compact TC 15 features the longest carding section in the market - ensuring the best product quality.
Manufactured by: Trützschler GmbH & Co. KG, Germany
FEATURES

BENEFITS

RESOURCES

GET A QUOTE
Technical Details
Raw material: cotton, man-made fibres
Key Features
Aluminium flat bars without screw connection - Quick flat exchange, without tools 3-roll WEBFEED Unit - For gentle pre-opening
Sliver former WEBSPEED - completely maintenance-free
Approx. 40 percent more production at same compact space
Setting Optimiser T-Con - For maximum utilisation of the TC 15 potential
Quick can change for large cans in smallest space with T-MOVE
High productivity and efficiency
Highest quality due to longest carding section on the market
Special toothed belts for flat guiding - easy and quick flat replacement without tools
Reduced maintenance
Lowest operating costs
Lowest waste quantities
Computer control with touch screen - simple operation and targeted maintenance
Premium clothings from TCC, made of high-grade steel for licker-in, main cylinder and doffer; extended service life ensures longer maintenance intervals
Your message was sent successfully. Thanks.