With decisive design advantages the NIPCO® Technology, for individual calendar nips, offers customised solutions for textile finishing and technical textiles manufactured by Guarneri Technology s.r.l., Italy. The NIPCO® L configuration allows the manufacturer to select effects such as high glazing, density control and other sales requirements in one calendar combined.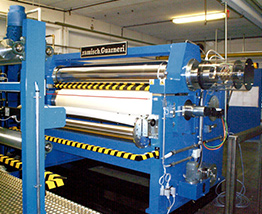 NIPCO® L Calendar
The hydrostatic support elements of the NIPCO® L system are independently arranged in a 90° configuration, one active against a steel bowl, one active against a cotton bowl. Only the original NIPCO® L calendar controls two pressure lines completely independent based on patented development of the 80s.
Manufactured by: Guarneri Technology s.r.l., Italy
FEATURES

BENEFITS

GET A QUOTE
Technical Details
3 bowl calender
Steel/NIPCO®l/cotton
Cotton bowl dia - 750 mm, RACOLON® sleeve dia - 500mm
Operating pressure 50-300 N/mm
Raw material: cotton/cotton blends
Key Features
Calender pressure adjustable according to fabric width
Soft and lusture feel to the fabric
Your message was sent successfully. Thanks.