Guarneri Technology s.r.l., Italy offers customised solutions for textile finishing and technical textiles. Highly efficient and flexible, the NIPCO® I configuration - for individual calendar nips - is an innovative development in calendar processing.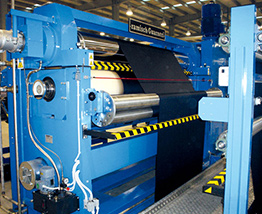 NIPCO® I
The NIPCO® I calender is an outstanding development of flexibility and efficiency in calender processing. The combination of a free rotating sleeve, whether a RACOLAN®, Toptec3® or Steel with our selective pressure adjustment in the width, will always prevent burning and marking of the sleeve edges. The pressure is effective in only the requested zones, no other system in the market can compete with this function. Other sleeves, when slid on, will over time start frictioning resulting in weft distortion.
Manufactured by: Guarneri Technology s.r.l., Italy
FEATURES

BENEFITS

GET A QUOTE
Technical Details
Application: bowl width - 1600 mm to 5000 mm
3 bowl calender
Raw material: cotton/cotton blends
RACOLON® sleeve dia: 500mm, engraved steel bowl dia: 300-500 mm
Steel/NIPCO®/embossed steel
Operating pressure: 50-300 N/mm
Key Features
Calender pressure adjustable according to fabric width
Lusturous feel and engraved effects
Your message was sent successfully. Thanks.