Morgan's HM (Hard Material) model, has been designed over the Next 70 standard version, expressly for the cutting of hard and difficult materials.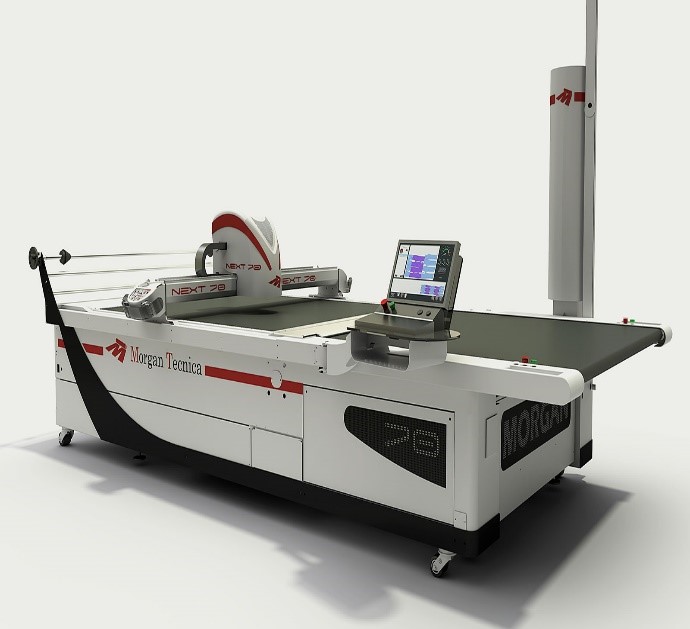 Next
(Cutting machine)
Morgan's cutting machine is equipped with powerful motors that operate at 6000 rpm. Coupled with mechanical reinforcement of the head, a bigger anodized bowl for faster knife vibration speed and a better weight distribution (which helps smoother sliding over the lay), enables the Next cutting machine to cut a variety of materials. Features like zero buffer cutting, and available widths of 180 - 220 cm add to its versatility. The Morgan Next is a high productivity, lower power consumption, and low maintenance cutting machine.
Manufactured by: Morgan Tecnica SpA, Italy
FEATURES

BENEFITS

GET A QUOTE
Key Features
Max cutting thickness 7 cm (compressed)
Average power consumption approx. 12 kW (single pump)
Standard cutting window 180 cm
Available width 180 – 220 cm
Standard 4500 rpm (HM 6000 rpm)
Zero buffer cutting
Easy to use GUI (graphical user interface) with touch icons
Automatic detection of symmetric patterns and cutting direction management
Pattern proximity detection and dynamic speed control
Perimeter harmonisation by automatic fixing of digitalisation errors
Best start point automatic calculation for each pattern
Best cutting window automatic calculation
Smart cut sequence - to minimise empty movement and improve cutting quality
Special automatic functions for the waist band (specific for denim)
Active Notch Management - dynamic notch type changing
Notch conversion (on fly, "V" notches, castle notches)
Marker batch list elaboration
Marker joint
Detailed statistics and reports; compatible with Morgan Analytics
Benefits
Save fabric with zero buffer
Save on running and maintenance costs
Maximum productivity and flexibility
Low power consumption
Your message was sent successfully. Thanks.