The Morgan Cruise spreading machine features a revolutionary fabric feeding system - patented by Morgan - that allows users to choose among different mechanical set-ups of the machine, depending on the fabric type and weight. Users can get the fabric fed accordingly - from perfectly vertical over the table (ideal for electrostatic and elastic fabrics) to various inclination slopes (recommended for heavier and harder fabrics).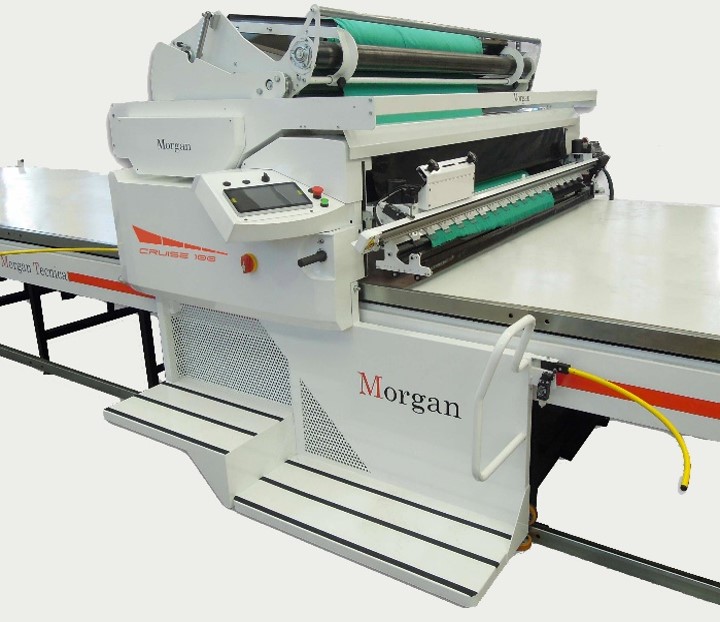 Cruise
(Spreading Machine)
This Morgan spreading machine also makes it possible to create and manage several different fabric profiles from the on-board PC and get different accelerations, speeds, levels of tension, and other parameters. The use of brushless motors and the electronic control of every function allows for incredibly fast but smooth acceleration. This guarantees the best spreading quality, even with most elastic and slippery materials or irregular step lays.
A special cradle, made of double solid PVC belt (not parallel stripes) guarantees perfect and even grip throughout the fabric width. The electronically controlled 'dancer bar' is double positioned and located under the knife box for higher sensitivity and accuracy in tension-free spreading. Maximum reliability and maintenance are facilitated by the machine's auto-diagnosis system and Wi-Fi connection for remote support. The machine is also prepared to interface with MD COP and MD Analytics.
Manufactured by: Morgan Tecnica SpA, Italy
FEATURES

BENEFITS

GET A QUOTE
Key Features
Spreading modes include face up, one way and zig zag, with or without ends cut (lap laying)
Cradle with double PVC belt
Auto-diagnosis system
Electronic tension-free device
Automatic edge alignment by photocells
Encoder device
Spreading with and without end catchers
Fabric usage report
Possibility to spread from fabric roll, open folded fabric
Possibility to store 24 different parameters
Both ways cutting device with adjustable speed
Innovative fabric feeding system (patented)
Benefits
Multi-purpose machine; suitable for use with various fabrics
Saves fabric with overlapping management and roll end optimisation
Improves quality and productivity
Easy to use: touchscreen with Windows OS
Easy to connect with Wi-Fi connection
Your message was sent successfully. Thanks.