CEIA electronic metal detectors are universally recognized by leading world manufacturers of industrial machinery for their high quality and reliability.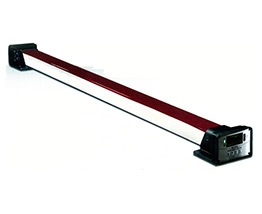 Metal detector bar type: TE
CEIA offers industrial metal detectors which are the ideal means of protection for production lines against accidental damage caused by pieces of metal that can enter the manufacturing process along with the material. CEIA's metal detectors are high sensitivity devices designed to detect magnetic and non-magnetic metal masses. They can detect pins, needles, and other small pieces of metal in textile machines (calendaring machines and shrinking ranges).
Manufactured by: CEIA S.p.A., Italy
FEATURES

BENEFITS

RESOURCES

GET A QUOTE
Automatic power supply selection 100/240 VAC, 50/60 Hz, 1.5A max
Standard Bluetooth connectivity
Ejection system programmable relay
Encoder or reset button external connection
Automatically evaluates the level of mechanical and electrical noise in the environment
Wide detection speed range: 1 - 600 m/min
Robust: unbreakable detection surface due to stainless steel bars protection
Easy readability with high-contrast graphic display
Your message was sent successfully. Thanks.