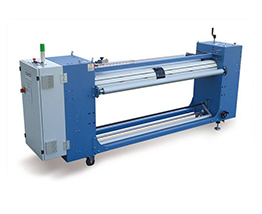 Digital printing inlet
Fabric feeding into the printing machine needs to be done with precision so that the print does not go haywire. The digital printing inlet, compatible with almost all types and models of printing machines, is designed to achieve just that. With a very simple operation and no maintenance required, the digital printing inlet achieves fabric feeding with precision for best quality print fabrics.
FEATURES

BENEFITS

RESOURCES

GET A QUOTE
Key Features
Compact unit that can be added to any digital printer inlet, it supplies all the function for a perfect feeding of fabric to printing machine.
Fabric can be perfectly synchronized with the printing speed of machine using 2 compensators.
A Special fabric edge alignment system keeps fabric perfectly aligned & stretched while feeding to printing machine. Possibility to have big batch to batch or from roll to roll option. Also axial winder / unwinder can be offered for big A frame trolleys. .
Available for wide width fabric as well
Perfect feeding & winding of fabric under uniform tension to printing machine. Helps in getting good quality prints as fabric is stretched widthwise, aligned to one selvedge and fed to printing machine . avoid ink loss. Optimal coverage of fabric to be printed.
Your message was sent successfully. Thanks.