Mahlo Orthopac CRVMC is ideal for carpets and technical textiles. Specially designed for higher loads to deliver products with bow and skew, the Mahlo Orthopac CRVMC can be equipped with pattern detection system for carpets.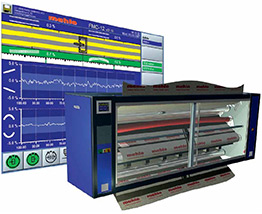 Orthopac CRVMC Weft Straightener
The Mahlo Orthopac CRVMC is specially designed to take high mechanical loads. Thanks to reinforced components, it is ideal for processing very heavy weight and wide materials. The arc of contact of the straightening rollers thereby depends on the desired straightening effect. With products without skews and bows, the straightening rollers are not engaged. When the straightening rollers engage with the product, the uniform contact of the straightening rollers with the product is ensured over the entire width.
Manufactured by: Mahlo GmbH & Co. KG., Germany
FEATURES

BENEFITS

RESOURCES

GET A QUOTE
Key Features
Reinforced construction
Large roller diameter
Suitable for tensional forces of up to 3 kN
Working widths up to 5400 mm possible
Innovative roller positioning drive
When used with PCS (Pattern Control System), patterns can be reproduced accurately
Your message was sent successfully. Thanks.