The Luwair P housing system is a modern and flexible alternative to bricks and mortar housings for air handling systems.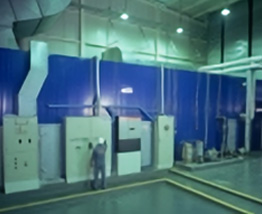 Luwair P
(Housing for air treatment systems)
Centralised air handling systems also require housing. Masonry can be very time consuming and expensive, as it involves a lot of planning for implentation. Luwair P is a customized alternative that uses panels and connecting elements giving it some flexibility.
Manufactured by: Luwa India Private Limited, India
FEATURES

BENEFITS

GET A QUOTE
Technical Details
Raw Material: Cotton, blends, synthetic etc
Application: For textiles and nonwovens
key Features
Luwair P is the modern alternative for the execution of walls, instead of masonry, of a centralised air treatment system
Perfectly airtight and has excellent thermal and acoustic insulation
Supporting elements are bolted together with variable connection elements, thus allowing maximum flexibility
Can be used as housing or as partition wall, adapted to individual production factors and space availability
Particularly advantageous for installation while production is running
Low cost execution by using commercially available panels, assembly rails and connecting elements
Short installation time
Reduction of the expenditures for planning and implementation
Your message was sent successfully. Thanks.