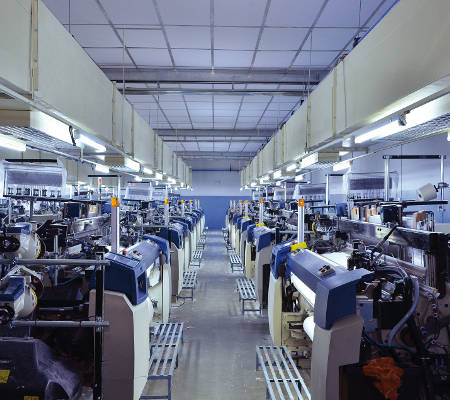 Loomsphere
LUWA's LoomSphere carefully maintains the environment at the loom such that the buildup of fluff is minimised in the loom shed area. It also supplies high humidity air to the production zones – this helps maximise yarn strength and minimise yarn breakage.
The patented local displacement air outlet is situated above the warp. The low turbulence air flow which is produced maintains the required air conditions up to the warp. The exhaust air is captured directly under the weaving machine together with dust and fibre fly. This means significant energy savings and reduced burden on the air conditioning system from dust and fibres in the weaving area.
Manufactured by: Luwa India Private Limited, India
FEATURES

BENEFITS

GET A QUOTE
Laminar air flow – clean air supplied directly into the weaving zone
Direct conditioning – high humidity only where it is required
High air changes are effective at removing dust from the weaving zone
Removes heat and dust efficiently; provides comfortable working conditions for operators
Low energy consumption – 40% less compared to conventional system
Reduced energy consumption of humdification plant
Optimised heat dissipation thanks to aluminium profile
Your message was sent successfully. Thanks.