Matchpoint's products are well-known around the world for their innovations and developments in diamond finishing. Matchpoint's DDF (diamond denim finishing) is a highly sustainable pre-finishing process for denims.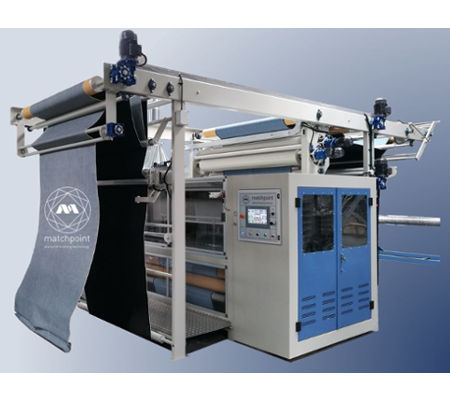 Diamondtec Denim Diamond Finishing Machine
Diamond denim finishing is a chemical-free pre-finish for flat denim fabric. It enables effects such as colour fade and stable soft touch, and meets all economic and ecological requirements for sustainable manufacturing in surface finishing for denims.
The processing and consistency is guaranteed for millions of meters. Diamond denim finishing positively impacts laundry processes. Shorter wash processing not only ensures lesser water consumption, it also reduces energy used in washing, reduces chemical usage, and produces less wastewater. Another advantage is improved garment wash efficiency.
Wash recipe with DDF at garment laundry
rinse ABS, wash no desizing
intensive ABS or natural enzyme wash
intensive ABS wash + peroxide bleach
Manufactured by: Matchpoint GmbH, Germany
FEATURES

BENEFITS

RESOURCES

GET A QUOTE
Diamond denim finishing effects include dark shade + soft touch, mid-blue shade + soft touch, and light blue shade + soft touch
Chemical-free process
Imparts soft-touch and used look to denim fabric
Savings of 30-50% at laundry side
Lesser water and energy consumption
Reduction of wash detergents and auxiliaries
Faster laundry process, higher productivity
No need of stone washing
No more hand sanding needed
Better rubbing fastness on denim surface
Improved tearing, specially for bright shades
Improved behaviour of Lycra/Elastane constructions
Permanent denim fabric softening without chemicals or stones
No grey cast after bleaching
Your message was sent successfully. Thanks.