Corino's wet slitter machine ensures uniform slitting with low tension after slitting.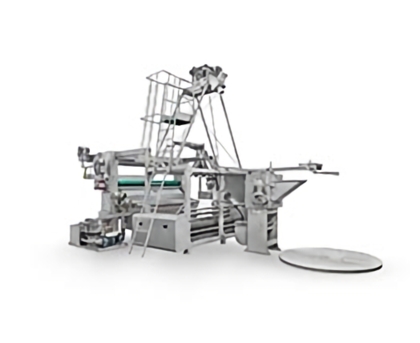 Corino Wet Slitter
Corino wet slitting plants come with a bio wash tank system that makes it the preferred choice for textile processors.
Manufactured by: Corino Macchine S.p.A., Italy
FEATURES

BENEFITS

GET A QUOTE
Key Features
Provision of scroll rolls and centring devices
Two alternative ways of opening after slitting
3 driven rolls for taking the padder till the padder
Special padder entry device after entry
Stainless steel blades for slitting
Hydraulic turntable made from one single piece of 100 mm thickness/very sturdy. Higher turntable dia. of 2 m made of stainless steel
Less maintenance rope squeezer
Patented system to detect fabric twist
Special slit opening basket LT-07 (patented) to work without tensioning
Golden Eye technology for perfect slit execution
Special centering device with stainless steel slots after slit opening
Low installed power; only 24 kW for balloon padder
Higher loadable pressure on padder up to 60 kg/cm resulting in more water extraction
Lowest elongation
Your message was sent successfully. Thanks.