OPTIMA is an economical solution for chainless mercerising.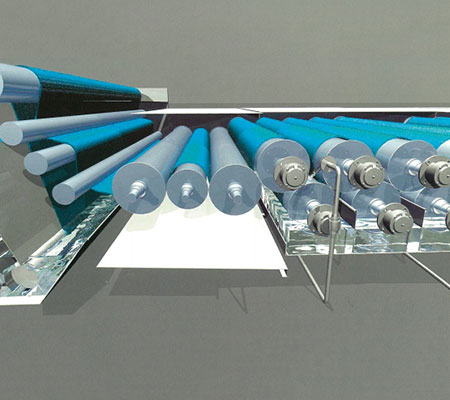 OPTIMA
(Chainless merceriser)
Mercerising is the treatment of cotton with concentrated caustic soda under fabric tension. Mercerisation is one of the most important processes of finishing cotton materials. It imparts gloss to the fibre, increases its hygroscopicity, strength and improves its dye affinity. OPTIMA from Goller is the right solution for mercerising woven fabrics. Its tension control by load cells provides clear surface structure, thereby giving lustre to the fabric. Effective control of the caustic soda concentration ensures dimensional stability in the stabilising process.
Manufactured by: Goller Textilmaschinen (HK) Limited, Hong Kong
FEATURES

BENEFITS

RESOURCES

GET A QUOTE
Technical Details
Working width: up to 3400 mm
Roller width: up to 3600 mm
Fabric speed: up to 100 m/min
Mercersing technology: hot, cold, wet-in-wet, dry-in-wet
Operation mode: single or double layer
Key Features
Modular system
PC control and recipe administration
Fabric tension control by load cells
Fabric guiding elements controlled and synchronised
Intelligent caustic soda management during set-up and production
Automactic caustic soda concentration regulation
High efficiency squeezing devices with special rubber coating
Easy connection to caustic soda recovery unit
It can be used for both hot and cold merceriser
Economical solution for mercerising effect
Reduced caustic soda consumption
Even results due to optimised impregnation
Your message was sent successfully. Thanks.