CADENA mercerising machine from Goller is the perfect solution for width under control.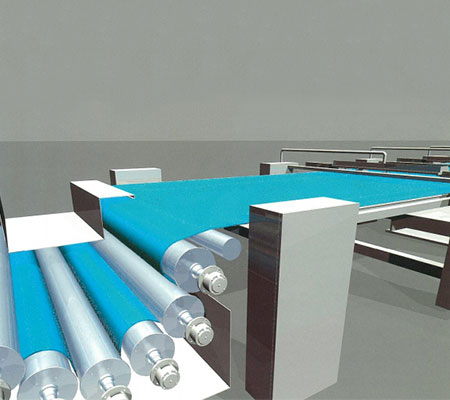 CADENA
(Merceriser with chain in middle)
CADENA enables width control through horizontal clip chain for defined width setting accompanied by overflow and vacuum devices in stabilising and finally synchronisation with the help of load cells for high quality mercerising. It provides absolute tight strand guidance from mercerising compartment to the chain.
Manufactured by: Goller Textilmaschinen (HK) Limited, Hong Kong
FEATURES

BENEFITS

RESOURCES

GET A QUOTE
Technical Details
Working width: up to 3400 mm
Roller width: up to 3600 mm
Fabric speed: up to 60 m/min
Mercersing technology: hot, cold, wet-in-wet, dry-in-wet
Operation mode: single layer
Key Features
Vacuum bars width adjustable between the chain
Synchronisation by load cell
High efficiency squeezer with approx. 80 percent residual humidity
Heating system in the collection tank or cooling in circulation
Clip chain provided
Regulated cascade drive for tension regulation
PC control
Overflow and vacuum devices for stabilisation
It can be used for both hot and cold merceriser
Shining fabric surface with good absorbency
Your message was sent successfully. Thanks.