Sieger's cone winding to container (C2C) is a automated transportation solution that impacts the bottomline through enhanced efficiency and savings in manpower, space, and time.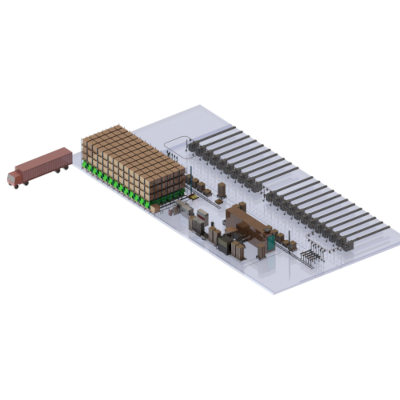 Cone to Container
(C2C)
Sieger C2C (Cone to Container) comprises of transport automation, hybrid conditioning with pre-conditioning and vacuum conditioning, followed by the automatic packing of cones in polybags and then cartons, pallets or sacks. Automated storage makes use of vertical space and delivers the material near point of loading into containers.
Manufactured by: Sieger Spintech Equipments, India
FEATURES

BENEFITS

RESOURCES

GET A QUOTE
Key Features
Automatic cone lifting from winders by cone loaders with RFID sensors
Pallets are formed by robots; count-wise or lot-wise as per the desired matrix
Pre-conditioning and conditioning of pallets in yarn conditioning plant (YCP)
Conditioned pallets are moved to automatic storage system (ASTOR)
Depending on the customer's requirement, conditioned pallets can be de-palletised and fed to Sieger's Automatic Cone Packing System (APAC), wrapped in polysheets and then packed in cartons or sacks
Fully automatic, efficient system; does not require manual handling
System is customised to suit the customer's requirement
Reduction of manpower
Avoid mix up of cones​
Improved yarn realisation up to 2.5%
Consistent yarn quality​
Excellent quality of packing​
Precise carton box/bag weight​
Huge savings in storage space​
Automatic handling of dispatches and link to ERP​
Excellent quality of packing​
Excellent inventory management
Your message was sent successfully. Thanks.