Blending is one of the decisive factors in determining the quality and processing characteristics of the material in downstream processes. Trützschler's blending machinery are designed to ensure homogeneous blending even at high throughput rates.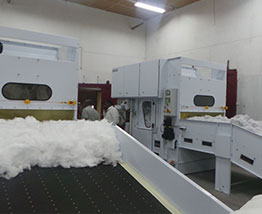 Bale Opener EBO
For opening bales of natural and synthetic fibres, Trützschler has developed the Bale Opener EBO. With easy maintenance, this unit is designed to perform at high availability. Based on the production requirements, the lines can be designed for production throughput of up to 2000 kg/hr.
Manufactured by: Trützschler Nonwovens and Man-made Fibres GmbH, Germany
FEATURES

BENEFITS

GET A QUOTE
Technical Details
Application range: bale opener for natural and man-made fibres
Key Features
Degree of opening influenced electronically by motoric adjustment of back stripping roller
Dust and fibre accumulation inside inclined spike lattice is avoided by over pressure created by pressure fan
Frequency controlled drive for inclined lattice
Independent drives
Less down time
Easy maintenance
Operator friendly
Production up to 700 kgs per hour per machine
Your message was sent successfully. Thanks.