The high production Bale Opener EHBO is designed to open whole bales. Optional automatic bale feeding system to accommodate a bale laydown of up to 10 bales.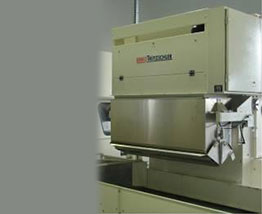 Bale Opener EBHO
(Bale opener for synthetic and natural fibres)
The Bale Opener EBHO, developed by Trützschler, is a high production bale opener which can open whole bales of synthetic as well as, natural fibres. There is an optional feature of an automatic bale feeding system which can accommodate a bale laydown of up to 10 bales.
Manufactured by: Trützschler Nonwovens and Man-made Fibres GmbH, Germany
FEATURES

BENEFITS

RESOURCES

GET A QUOTE
Technical Details
Application range: bale opener for natural and man-made fibres
Key Features
Dust and fibre accumulation inside inclined spike lattice is avoided by over pressure created by pressure fan
Frequency controlled drive for inclined lattice
Independent drives
Less down time
Easy maintenance
Operator friendly
High throughput: production up to 2500 kg/hr per machine
Your message was sent successfully. Thanks.