Trützschler's discontinuous Digibalance EDB weighing system is used for accurate weighing and blending; suitable for low output.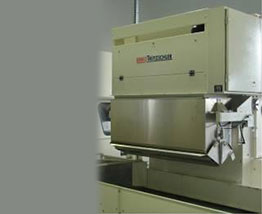 Digibalance EDB
The discontinuous weighing systems with Digibalance weigh pan are suitable for low outputs. During continuous weighing and blending of fibres, the highest level of precision is required. The number of weighing systems depends on the number of fibre types used.
Manufactured by: Trützschler Nonwovens and Man-made Fibres GmbH, Germany
FEATURES

BENEFITS

RESOURCES

GET A QUOTE
Technical Details
Application range: blending of different fibres – types, colour, fineness or cut lengths
Key Features
Trützschler weigh pan system EDB attached to bale opener EBO and high production bale opener EHBO. Installation for 2 to 6 components and up to 3000 kg per hour throughput could be designed
Reliable economical system for less demanding applications.
Change in blend ratio through machine control panel.
Operator friendly
Your message was sent successfully. Thanks.