The W100W series of controllers are economical and reliable in keeping your water treatment system under control.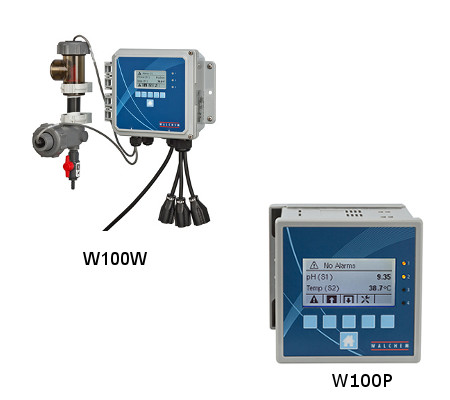 Walchem Controllers W100W, W100P
(For economical and reliable water treatment system control)
The W100W series of controllers offer a high level of flexibility in controlling water treatment applications.Three powerful control outputs make the Walchem W100W a more versatile, high value choice among entry level water treatment controllers.
Manufactured by: Walchem Corporation, USA
FEATURES

CASE STUDIES

GET A QUOTE
Technical Details
0.01 Cell Contacting Conductivity: 0-300 μS/cm
0.1 Cell Contacting Conductivity: 0-3,000 μS/cm
1.0 Cell Contacting Conductivity: 0-30,000 μS/cm
10.0 Cell Contacting Conductivity: 0-300,000 μS/cm
pH : -2 to 16
ORP: -1500 to 1500 mV
Disinfection sensors -2000 to 1500 mV / 0 - 2 ppm to 0 - 20,000 ppm
Electrodeless Conductivity : 500 to 2,000,000 uS/cm
Material of construction: Polycarbonate/NEMA 4X; display - 64 x 128 graphic backlit display
Applications
Cooling tower/boiler
Food and beverage
Irrigation and fertigation
Industrial and municipal wastewater treatment
Metal finishing
Pulp and paper
Swimming pools and spas
RO systems
Key Features
Large display with icon based programming makes setup easy
Universal sensor input provides extraordinary flexibility; the same controller can be used with almost any type of sensor needed
Three control outputs allow the controller to be used in more places than other entry level models
Immune to electrical interferences
Complete flexibility in the function of each relay:
On/Off setpoint
Time proportional control
Pulse proportional control (when purchased with solid-state rel ays)
In-range or out-of-range activation
Probe wash timer
Timer-based activation
Activation based up on the state of a contact closure
Timed activation triggered by a water contactor or paddlewheel flow metre's accumulated total flow
Activate with another output
Alarm
Your message was sent successfully. Thanks.