Sulzer abs XFP series of submersible sewage pumps are suitable for clear and wastewater; including sewage with sludge containing solids and fibrous material.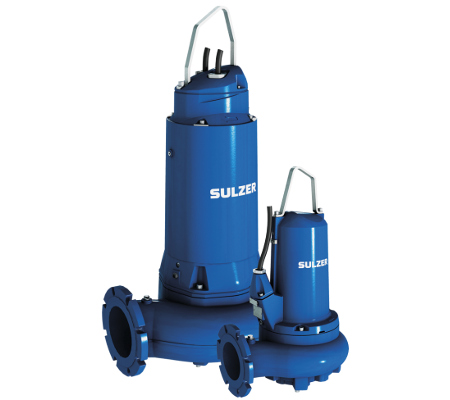 Sulzer abs XFP
(Submersible pumps for liquids containing fibrous and solid material)
These pumps are used in clear water or waste water with sewage containing fibrous and solid materials. Equipped with an optional closed-loop cooling system, Sulzer abs XFP submersible pumps have high efficiency motors (IEC 60034-30 level IE3) and area available with optional closed-loop cooling systems.
Manufactured by: Sulzer Pumps, Germany
FEATURES

BENEFITS

RESOURCES

GET A QUOTE
Technical Details
Range: PE 1 to 6
Head range: up to 74 m
Material of construction (with options): motor housing - EN-GJL-250 (CI); volute - EN-GJL-250 (CI); impeller - EN-GJL-250 (CI); bottom plate - EN-GJL-250 (CI); motor shaft - SS 420; lifting hoop - SS 316/ EN-GJS-400; fasteners - SS 316
Flow range: up to 1900 m3/hr
Size range: 1.3-75 kW
Class H (140°C) insulation
Applications
Clear water and wastewater
Sewage containing solids and fibrous material`
Sewage from commercial, industrial, and municipal areas
Wet wells, submerged with an automatic coupling system
Key Features
Premium Efficiency motors in accordance with IEC 60034-30 level IE3
Temperature rise according to NEMA Class A
Double silicon carbide mechanical seal
Closed-loop cooling system (optional)
Vortex, closed or open CB type and CB Plus type multi-lane impellers
Great energy saver, resulting in reduced energy costs
Excellent solid handling capabilities with enhanced levels of blocking resistance
Reduced wear of pump parts with less maintenance costs
.Prolonged pump lifecycle with smaller CO2 footprint
Your message was sent successfully. Thanks.