Based on the principle of fluorescence quenching, these dissolved oxygen sensors determine the dissolved oxygen content in water.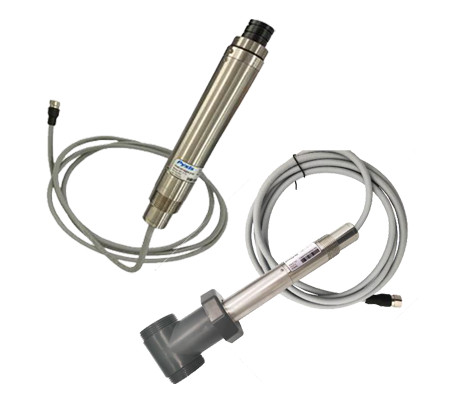 ST-772
(Dissolved oxygen sensor)
The ST-772 dissolved oxygen (DO) sensor is based on the principle of fluorescence quenching to determine the dissolved oxygen content in water. It incorporates Pyxis' advanced technology in the field of fluorescence detection. It uses dual light source detection technology with excitation and reference light sources, offering a wide detection range and low detection limit. This sensor integrates temperature and pressure sensors, to perform temperature and pressure compensation for the measurement of dissolved oxygen based on ambient environmental conditions present in the application of use.
Manufactured by: Pyxis Lab Inc., USA
FEATURES

BENEFITS

RESOURCES

GET A QUOTE
Applications
Activated sludge/Aerated basin
Wastewater and sewage processing
Chemical and process water
Domestic water
Filtration
Aquaculture
Agriculture
Key Features
0.004-20 mg/l measurement range
Built-in transmitter without pre-amplifier or meter head
Dual outputs both 4-20mA isolated signal and RS-485 Modbus
Wireless calibration, diagnostics, and data trends via the uPyxis® app when used with MA-CR Bluetooth adapter
Technical Specifications
P/N: 53703
Body Material: 304SS
Installation Method: Submerged
Measuring Range (4-20mA Output Scale): 0.004-20mg/L or 0-200%
Saturation or 0-500mbarP02
Resolution: 0.01mg/L
Accuracy: ± 0.1mg / L or ± 1%, whichever is greater
Light Source: Blue light irradiated emission red light quenching excitation
Response Time: <60 seconds
Operational Temperature: 0°C – 45°C (32 – 113°F)
Operating Voltage: 22 – 26V DC, power 0.6W
Signal Output: 4-20mA analog output/RS-485 digital output
Dimension (L x D): 296x33.6 mm (11.65x1.32 inches)
Weight: 760 g (1.67 lb) cable excluded
Working Pressure: 145 psi
Wet Material: 304SS/Polycarb
Cables Provided: 4.9ft/1.5m flying lead cable – 8Pin 30ft/10m bulkhead cable
Calibration: Slope calibration air or air saturated water
Zero calibration: 5% Sodium Sulfite or Nitrogen gas
DO Membrane Cap Life: 2 years
Protection Grade: IP-67/IP-68
Regulation: CE/RoHS
Compliance: USEPA 40CFR Part 136.3
Simple DO membrane cartridge replacement every 2 years
Scratch-resistant membrane
Accurate and stable measurement – no calibration required for up to 2 years
Your message was sent successfully. Thanks.