The Pyxis ST-601 inline probe measures mass/mass concentration of chlorine dioxide (ClO2) in realtime between the range of 0.01% to 0.35%.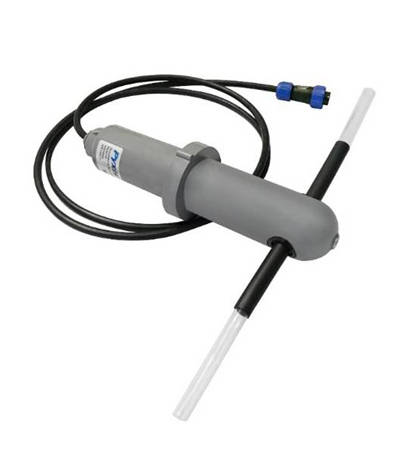 ST-601
(ClO2 sensor)
The Pyxis ST-601 inline probes are uniquely designed to measure mass/mass concentration of chlorine dioxide (ClO2) in realtime between the range 0.01-0.35%. They measure the optical absorbance of the ClO2 solution using a UV light source. The probes have a built-in reference light source and a reference light detector in addition to the main light source and main light detector. They can be connected to any device that accepts an isolated or non-isolated 4-20mA input or RS-485 Modbus. As with all Pyxis inline sensors, the ST-601 probes can be wirelessly accessed via Bluetooth when used in conjunction with the MA-WB Bluetooth Adapter or PowerPACK series auxiliary box and the uPyxis App for mobile phones and PCs.
Manufactured by: Pyxis Lab Inc., USA
FEATURES

BENEFITS

RESOURCES

VIDEOS

GET A QUOTE
Applications
Bio-control for industrial water
Industrial oxidiser generation (i.e. hypochlorite/monochloramine)
Swimming pools and spas
Hospitals
Key Features
The probe can be conveniently connected to the suction or discharge side of the pump in both inline Tee (ST-001) or ¼" Teflon tubing format with using a union. Both included with probe
The probe can be calibrated with a mobile app or PC software via an MA-WB Bluetooth adapter or PowerPACK series auxilary box
Can wirelessly be calibrated using known chlorine dioxide concentration standards via uPyxis App for mobile phones or PCs
Specifications
Target: Chlorine dioxide (mass/mass)
Range: 0.01% to 0.35 %
Resolution: 0.01%
Accuracy: ±2% of reading or 0.1 percentage, whichever is greater
Method: UV absorbance
Power supply: 24 (±2) VDC, 65 mA
Outputs: Isolated 4-20mA analog output, isolated RS-485 digital output, supporting MODBUS protocol
Dimension: 6.8 inch length, 1.44 inch body diameter
Weight: 0.37 pounds
Installation formats: ¼" OD (7 mm) Teflon tubing for measurement flow, ST-001 Inline Tee ¾" CPVC
Material: CPVC
Pressure: 100 psi (6.9 Bar)
Temperature: 4°C to 40 °C (40°F to 104°F) operating, -7°C to 60°C (20°F to 140°F) storage
Cable length: 5 feet (bulkhead cable with IP67 adapter), 1.5 foot flying lead cable with IP67 adapter, optional extension cables available
Calibration: Two-point calibration against known ClO2 concentration standards
Rating: IP67
Regulation: CE marked
Long maintenance and calibration cycle: 6 months typically
Diagnostic information (probe tubing fouling and failure modes) can be communicated to digital displays via Modbus RTU
Your message was sent successfully. Thanks.