This inline sensor measures both – PTSA (365nm ex/410nm em) and "Fluorescent Polymer" (410nm ex / 450nm em); for use in industrial water cooling and process treatment applications.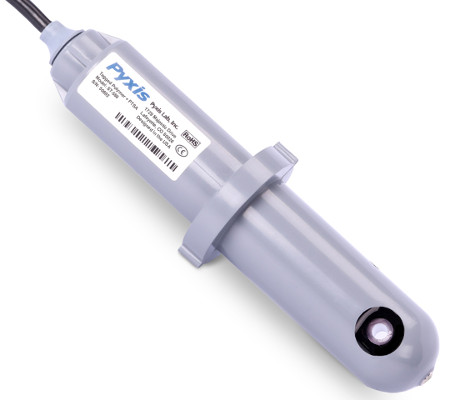 ST-588
(Tagged Polymer + PTSA Inline Sensor)
The ST-588 uses Pyxis' proprietary algorithms to determine the concentrations of PTSA and active polymer residue simultaneously, while measuring the sample turbidity and colour in highly contaminated waters (i.e. <150 NTU and 10 ppm Fe) for internal compensation. This sensor is a combination of dual (2x) 4-20mA as well as RS-485 Modbus output signals, one for PTSA and one for fluorescent polymer. The ST-588 is Bluetooth enabled for wireless cleanliness diagnostics and calibration.
Manufactured by: Pyxis Lab Inc., USA
FEATURES

BENEFITS

RESOURCES

GET A QUOTE
Applications
Industrial water cooling
Process treatment
Technical Specifications
Part Number (P/N): 50692
Fluorescent Polymer Range †: 0.0–20.0 ppm
Fluorescent Polymer Accuracy: ±0.1 ppm
PTSA Range: ±0.0–200.0 ppb
PTSA Accuracy: 1 ppb
Excitation Wavelength: 410 nm (Fluorescent Polymer) 365 nm (PTSA)
Emission Wavelength: 450 nm (Fluorescent Polymer) 410 nm (PTSA)
Wavelength Accuracy: 1 nm
Calibration: Two-point calibration against standard solution
Outputs: 2x; 4–20mA analog output, RS-485 digital output with Modbus protocol
Installation: Custom tee assembly (P/N: ST-001) with 3/4" FNPT socket and threaded ports
Cable Length: 5 ft with IP67 connectors and 1.5 ft flying lead with IP67 adapter
Power Supply: 22–26 VDC, 1.8 W
Dimension: 6.8 1.44 inch (172.7)
Weight: 0.37 lbs (170 g)
Material: UPVC
Operational Temperature: 40–104°F (4–40°C)
Storage Temperature: 20–140°F (-7–60°C)
Pressure: Up to 100 psi (0.7 MPa)
Enclosure Rating: IP67
Regulation: CE
Automatic compensation for turbidity; up to 150 NTU and colour created by up to 10 ppm iron or equivalent to 10 ppm humic acid
Easy calibration using the uPyxis® mobile or desktop app
Diagnostic information (sensor fouling, colour or turbidity over a range, failure modes) available in the uPyxis® app or via Modbus RTU
Easy to remove from the system for cleaning and calibration without the need for any tools
Your message was sent successfully. Thanks.