The SP-800 provides colorimetric measurements at 7 LED wavelengths and nephelometric turbidity measurement using white LED and infrared LED as the excitation sources.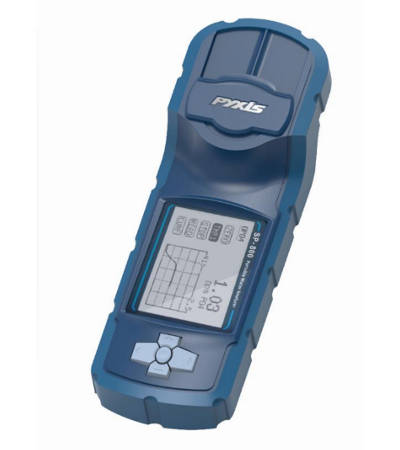 Pyxis SP-800
(Multi-parameter portable colorimeter)
The SP-800 is specifically designed for municipal, environmental, and industrial water analysis. It uses common colorimetric reagents and provides colorimetric measurements at 7 LED wavelengths. It is pre-calibrated for colorimetric measurements of analyses common in industrial water treatment and other water testing applications in the laboratory or field environments, such as chlorine, phosphate, iron, copper, and many others. The SP-800 has proven to be statistically more accurate than other devices on the market.
Manufactured by: Pyxis Lab Inc., USA
FEATURES

BENEFITS

RESOURCES

GET A QUOTE
Key Features
Pre-calibrated for measuring turbidity in the range of 0 to 200 NTU
Automatically selects the primary wavelength according to the method selected and switches to the secondary wavelength to extend the primary measurement range
Displays a concentration-time profile curve during the last time period in a colorimetric measurement. The user can terminate the timing process and take a reading if the displayed concentration reaches a plateau before completing the predefined time period
Pyxis specific methods such as non-cyanide containing zinc reagent are available
Wavelengths near UV 365 nm are also available
Specifications
Colorimeter wavelength: 365/420/455/525/560/570/630 nm
Turbidity excitation wavelength: White/infrared LED/90° scattering
Absorbance reproducibility: 0.005 au (0au to 1.0 au) (3sigma)
Absorbance linearity range: 0 to 1.0 au
Turbidity reproducibility: 1 NTU (3 sigma)
Turbidity detection limit: 1 NTU
Turbidity range: 0 to 200 NTU
Battery: 4 AA alkaline
Battery life: ~3 months
Display: Graphical LCD 160x240 pixels, visible under direct sunlight
Instrument dimensions: 265x88x62 mm (LxWxH)
Instrument weight: 600 g without batteries
Storage temperature range: 0°F to 140°F (-18°C to 60°C)
Operation temperature range: 40°F to 120 °F (4°C to 49°C)
Humidity: 85% at 106°F (41°C)
Environmental: IP67, dustproof, and waterproof
The user can update the calibration parameter of any pre-calibrated colorimetric method by testing a standard solution first and then following a setup procedure to update the calibration parameters
In-built Bluetooth allows easy connection to a PC or mobile apps for downloading datalog and adding new colorimetric methods
Your message was sent successfully. Thanks.